Saskatchewan Baseball Hall of Fame and Museum
---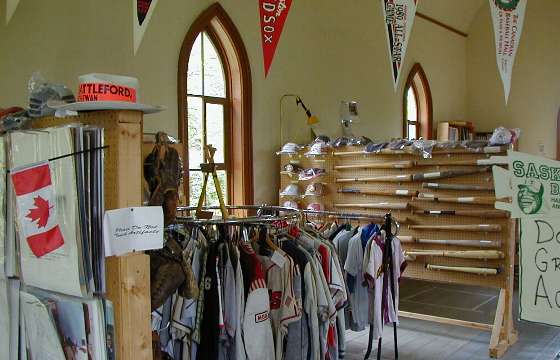 Some of the many Saskatchewan baseball artifacts in this old church building.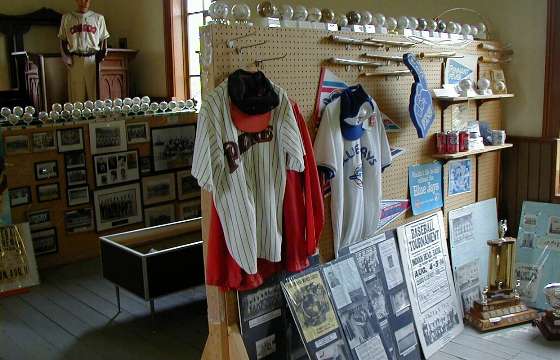 Another view includes team-autographed baseballs.
---
Quick Facts:
Location: 121 - 20 Street (between 1 and 2 Avenues), Battleford, Sask.
Opened: Unknown
Closed: 2003 (moved to new location - see below)
---
I never imagined there was enough baseball history in Saskatchewan to produce a hall of fame. But when I got to Fort Battleford during a 2002 excursion, I saw a sign for the hall and headed on over to this abandoned chapel.

Inside the museum can be found old team uniforms, autographed baseballs, pennants, and other memorabilia from what turns out to be a rich baseball heritage in the province. It was a pleasant surprise out in the prairie.

Jane Shury of the museum board advises that as of 1-May-2003, the museum has moved to a new location at 292 - 22 Street West (near 3 Avenue).
---
Return to the Other Baseball Sites page
Return to the Stadiums page
Return to Charlie's home page
E-mail: charlies.ballparks@verizon.net
---
Site and images Copyright © 2002 Charles O'Reilly. All rights reserved.
This page updated 5-Aug-2003