Happy Chandler Memorial
---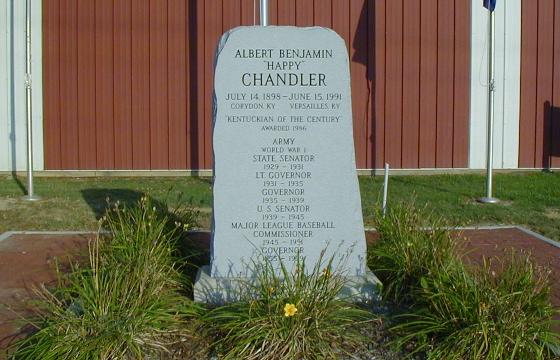 This monument to Happy Chandler stands alongside Route 60.
---
Quick Facts:
Location: Along Route 60, Corydon, Ky.
Established: 1992
---
A.B. "Happy" Chandler was named the "Kentuckian of the Century" in 1986. Chandler (1898-1991) served in several political offices in the Bluegrass State, including two separate terms as governor.

However, he is probably best known for succeeding Judge Landis as Commissioner of Baseball from 1945-51 -- and, in that capacity, approving the contracts of black players including Jackie Robinson, something Landis refused to do during his 25-year term as Commissioner.

This monument was erected following his death in his native town of Corydon.
---
Return to the Other Baseball Sites page
Return to the Stadiums page
Return to Charlie's home page
E-mail: charlies.ballparks@verizon.net
---
Site and images Copyright © 2003 Charles O'Reilly. All rights reserved.
This page updated 5-Aug-2003