It Was State-of-the-Art
---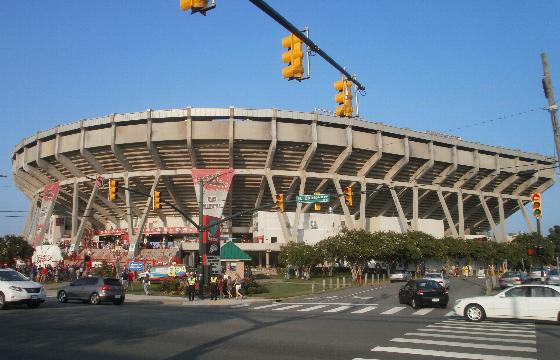 The futuristic-looking Diamond, as seen from across the Boulevard, Aug-2011.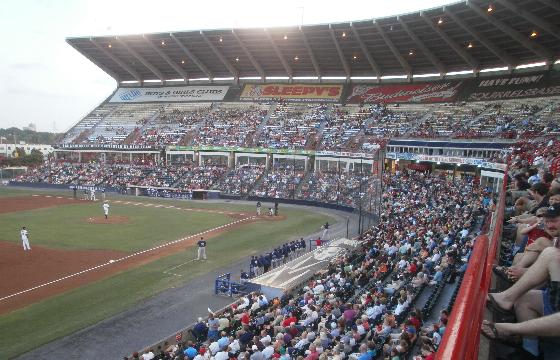 The Flying Squirrels fill the park nicely for a Thursday-night game.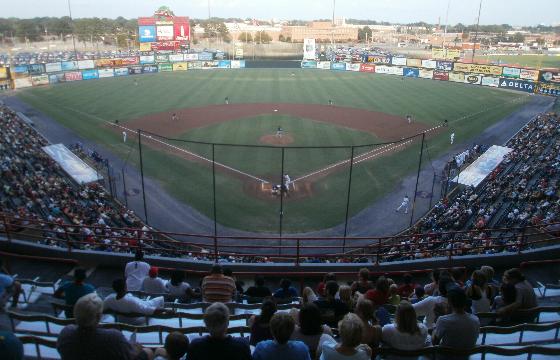 The field, used since 1954 for baseball, also hosts college games. A soccer field is out beyond right field.
---
Quick Facts:
Location: Boulevard at Robin Hood Road (I-95 exit 78), Richmond, Va. (map it using Google Maps)
Opened: 1934 (1954 for baseball; rebuilt 1985)
Additional names: Parker Field (1954), The Diamond (1985)
Home team: Richmond Virginians (1954-64), Braves (1966-2008), International League; Richmond Flying Squirrels (2010-present), Eastern League; Virginia Commonwealth University Rams, Colonial Athletic Association
Capacity: 9,500 (1950); 12,156 (1991)

Chronological Tour: Stop 20

Rating:



3 baseballs
---
The original facility here, which I never saw, was built in 1934 as a racetrack and renovated in 1953 to accommodate the International League. The old stadium was torn down in September 1984, and a completely new ballpark was in place for opening day in April 1985.

When I first visited The Diamond, in August 1991, I thought it was one of the greatest things going. The people of Richmond were justifiably proud.

Unfortunately, time seems to have passed this place by. While the seating layout is similar to the quite comfortable Lackawanna Stadium and it does have real grass, all the seating here is on shaped aluminum benches. That included the lower deck until the mid-2000s, when those seats were replaced by more traditional stadium seats. The upper deck still has the benches original to 1985, although several rows near the top have been removed in order to reduce the seating capacity.

There was talk of replacing more seats and making other modifications to the park, which might restore its glory, but the R-Braves were pushing for a new downtown park. When that did not materialize, the club announced plans to move to Gwinnett Co., Ga. (northeast of Atlanta), in 2009. Meanwhile, rumors continue to swirl about future occupants of either The Diamond or a new facility still on the drawing board for Richmond. Most recently, it was announced that a team would move here from Norwich, Conn., for the 2010 season.
---
Return to the Stadiums page
Return to Charlie's home page
E-mail: charlies.ballparks@verizon.net
---
Site and images Copyright © 1999 Charles O'Reilly. All rights reserved.
This page updated 16-Aug-2011