Engel Stadium
---

Across the street from Engel Stadium, Aug-1997.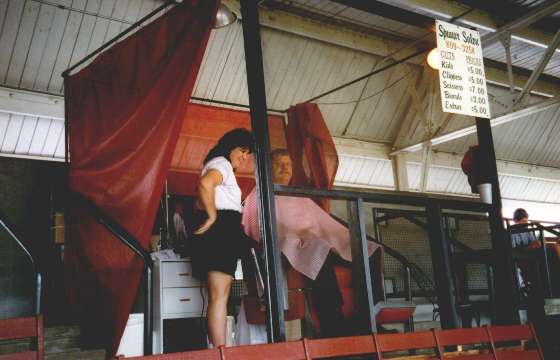 Shave and a haircut, a little more than two bits by then.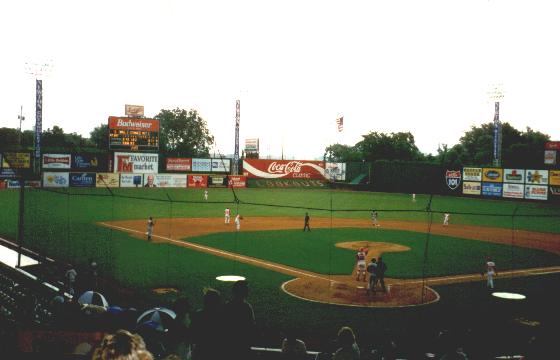 Where it says "Lookouts", in center field, is actually in play – 471 feet away.
---
Quick Facts:
Location: East Third Street at O'Neal Street, Chattanooga, Tenn. (map it using Google Maps)
Opened: 1930
Closed: 1999 (for pro baseball)
Home team: Chattanooga Lookouts, Southern Association (1930-61 except second half of 1943), South Atlantic/Southern League (1963-65, 1976-99)
Capacity: 7,500

Chronological Tour: Stop 117

Rating:




4 baseballs
---
They stopped playing professional baseball at Engel Stadium after the 1999 season, and no matter how nice its replacement, BellSouth Park, might be, it's a crying shame.

They have played baseball on this site for just about the entire century, starting out with home plate where left field is today. The Lookouts (named for nearby Lookout Mountain) played here almost continuously since 1930, and the facility also hosted the Negro League Chattanooga Choo Choos in 1947 (Willie Mays once played for them).

I got to a Wednesday afternoon game here in 1997, before heading down to Atlanta for a night game at Turner Field. I got to see this park in all its glory.

In the second photo above, you'll see a terrace with the word "Lookouts". That's actually a rise of grass, and the ball is in play there, 471 feet (144 m) from home plate. Another stadium feature is a working barbershop high above home plate.

There has to be some way to save Engel Stadium for future generations to enjoy, even if it's a one-game-a-year deal like the Rickwood Classic in Birmingham. I am advised that the stadium is currently standing and used for youth leagues; however, this still gives it something less than it deserves.
---
Return to the Stadiums page
Return to Charlie's home page
E-mail: charlies.ballparks@verizon.net
---
Site and images Copyright © 1997 Charles O'Reilly. All rights reserved.
This page updated 11-Aug-2009