Not the Oldest, but ...
---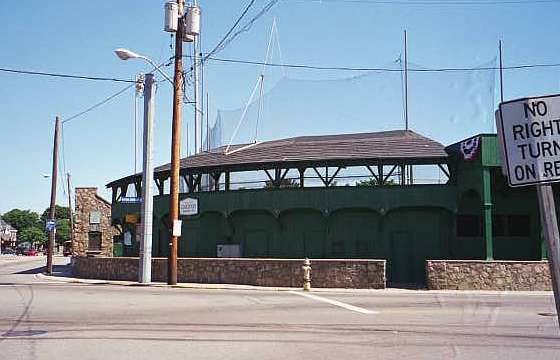 Cardines Field, from across the street, Jul-2001.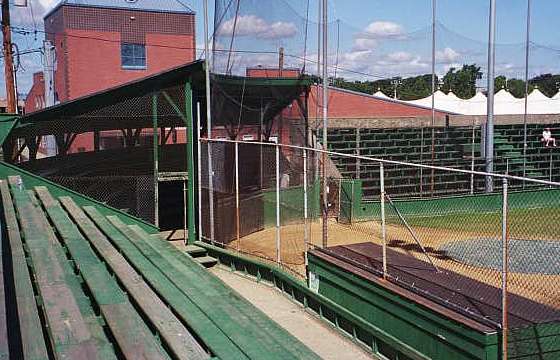 The park's misshapen seating bowl.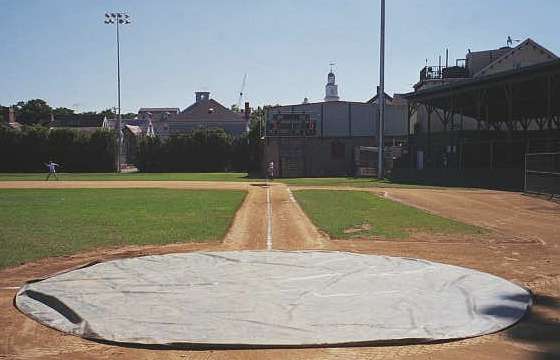 Notice how a building forms the right-field foul line.
---
Quick Facts:
Location: Newport, R.I.
Opened: 1908 as Basin Field (stadium built starting 1937)
Home team: Newport Gulls, New England Collegiate Baseball League
---
For a while, there was speculation that Cardines Field in Newport, R.I., might be the oldest baseball stadium still standing in the United States. It was believed that parts of this patchwork structure dated to 1887 and that it had hosted professional baseball in its earliest days.

However, historian Don O'Hanley, who also serves as the public address announcer for the Newport Gulls of the New England Collegiate Baseball League, which plays there now, advises that the Newport Colts (a k a Ponies) of the New England League (1897-99) played at Freebody Park, which survives today as a football field. Freebody was also used for Sunday exhibitions by major league teams up until the relaxation of the blue laws around 1920. The Ponies of the Atlantic Association (1908) played at Wellington Park, which is now mostly a vacant lot.

Basin Field was swampland until 1908, when the land was drained and the railroad company that owned it gave permission for recreational use. The Newport Sunset League began in 1919, but the stadium structure waited until 1937, when the city bought the property from the railroad. The grandstand took its current shape by 1941. The field is named for Bernardo Cardines, the first Newport resident to make the Supreme Sacrifice in World War I.

While Cardines isn't as old as was imagined by some, it is true that barnstorming teams, including the mainstays of the Negro leagues, made this a frequent stop in the 1940s. Research continues as to details of a game the Pawtucket Red Sox may have hosted here in the 1970s, which would make Cardines a legitimate former professional baseball park. Today, it continues to be used by amateur teams, including the Newport Gulls of the New England Collegiate Baseball League, a college summer league.

I stopped by the field on a Sunday morning in July 2001, on my way to a game at Norwich. I found a unique facility in which all the covered stands were on the first-base side, along with both dugouts. There is very little foul territory here. While there is a decent amount on the first-base side, it ends abruptly at the Mudville Tavern; beyond that point, a fair ball can strike the back of buildings and be in play.
---
Return to the Other Baseball Sites page
Return to the Stadiums page
Return to Charlie's home page
E-mail: charlies.ballparks@verizon.net
---
Site and images Copyright © 2001 Charles O'Reilly. All rights reserved.
This page updated 20-Sep-2011