Cafaro Field
---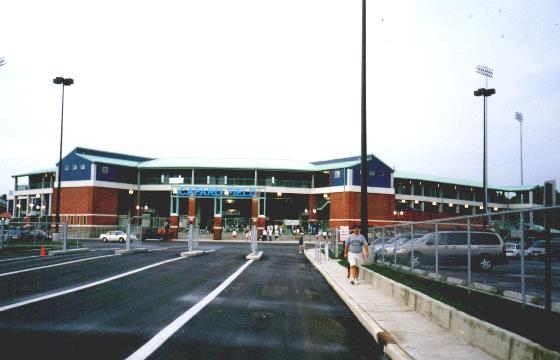 Exterior of Cafaro Field, Aug-1999 (the summer it was built).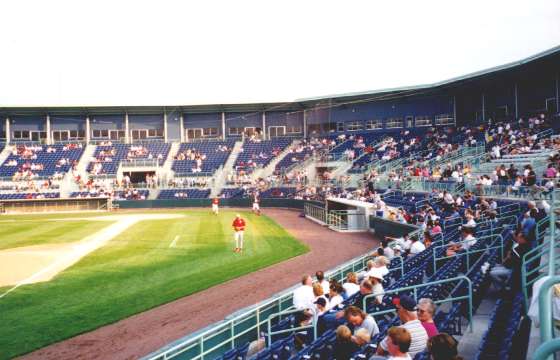 The seating bowl fills up before game time.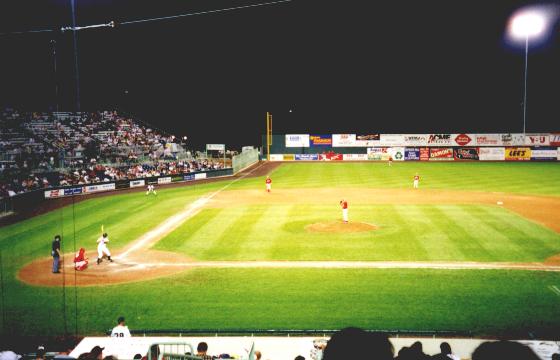 Visible here is the small amount of foul territory halfway down the line.
---
Quick Facts:
Location: Youngstown-Warren Road (Route 422) behind Eastwood Mall, Niles, Ohio
Opened: 1999 as Cafaro Field
Additional names: Eastwood Field (2002)
Home team: Mahoning Valley Scrappers, New York-Penn League
Capacity: 6,000

Chronological Tour: Stop 169

Rating:




4 baseballs
---
The Youngstown-Warren corridor in northeastern Ohio turned out to be a fertile spot for a minor league team, especially an Indians farm club. While I wasn't overly excited about the home of the Mahoning Valley Scrappers, it's more than serviceable and a suitable spot for baseball nuts from the area (and there are a lot) to get their fix.

Short of actually building on the Mahoning River (and there isn't much to recommend the Mahoning River), there wasn't much the developers could have done to improve the view. The field is awkwardly tucked behind a shopping mall which now holds naming rights for the park, but at least it faces a field of trees -- and a treehouse that one enterprising property owner built beyond the right field wall in order to give himself a view.

The field itself has a symmetrical but interesting shape. It has generous dimensions – 335 down the lines, 405 to center – but in order to make the box seats down the lines more marketable, they cut sharply toward the foul line (and face the infield) until they get within about 3 feet of the line. That's where they end, yielding very little foul territory for the last 75 feet or so – just like left field at Fenway Park, except that this is both lines.

The stadium itself is remarkably similar to Skylands Park in Augusta, N.J., except for being a bit larger. This is accomplished mainly by putting more seating rows above the concourse level. It's comfortable, as there are stadium seats in all the lower boxes and all the upper infield seating areas. Outfield areas are bench seating. However, the concourse aisle is surprisingly narrow, making it just a little difficult to move around between innings. It could have stood being a foot or so wider, with all the capacity.
---
Return to the Stadiums page
Return to Charlie's home page
E-mail: charlies.ballparks@verizon.net
---
Site and images Copyright © 1999 Charles O'Reilly. All rights reserved.
This page updated 12-Aug-2009