Dayton Has Baseball Again!
---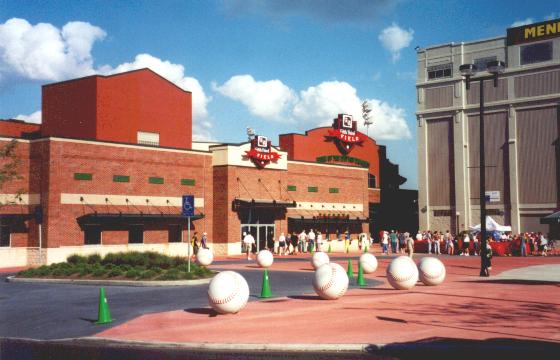 Expansive entryway to Dayton's Fifth Third Field, Jul-2000.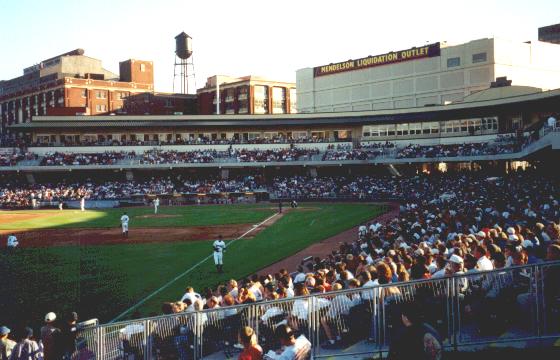 A rare construction for this level: to fit all the seats, a regular upper deck.
---
Quick Facts:
Location: Between First and Monument Streets off Patterson Boulevard, Dayton, Ohio
Opened: 2000
Home team: Dayton Dragons, Midwest League (2000-present)
Capacity: 7,230

Chronological Tour: Stop 174

Rating:




4 baseballs
---
There wasn't a ticket to be found for the first game I attended at brand-new Fifth Third Field, which introduced pro baseball to Dayton for the first time since 1951. The announced attendance was 8,518, which was 1,288 above seating capacity.

They squeezed the park between First and Monument Streets. With nowhere else to go, they made do in the tight confines by building a second deck, containing about 8 rows of seats, and the sky boxes behind those rows. It's one of the few parks in Single-A with a second deck. In addition, both foul lines are pinched a little bit by the two streets (but the fence is higher along those lines). There are outfield seating areas as well – bleachers in left field, a grass berm in right – but it isn't possible to walk all the way around the park. (Correspondent Matt Thornton of Dayton advises, as of 1-Jan-2001, that the concourse has been completed around the outfield perimeter.)

The video board worked, but they hadn't figured out how to run the message board or the scoreboard clock. Concessions are reasonable, and the staff seemed friendly. There is on-street parking if you arrive early enough; otherwise, area lots charge $3.

All in all, Fifth Third Field (named for an Ohio bank) is an impressive effort and a fine showcase for baseball in this Midwestern city. There is a problem, though, with the name. The bank also sponsors ballparks in Toledo in the International League and Comstock Park in the Midwest League. That's too many Fifth Thirds, if you ask me.

As of mid-2011, the Dragons, who have reported a sellout for every game since the park opened (the game is sold out if every seat is sold – general admission tickets are available for standing or sitting in the outfield), had set a professional sports record for consecutive sellouts with over 800.
---
Return to the Stadiums page
Return to Charlie's home page
E-mail: charlies.ballparks@verizon.net
---
Site and images Copyright © 2000 Charles O'Reilly. All rights reserved.
This page updated 19-Aug-2011