Larry Doby Field
---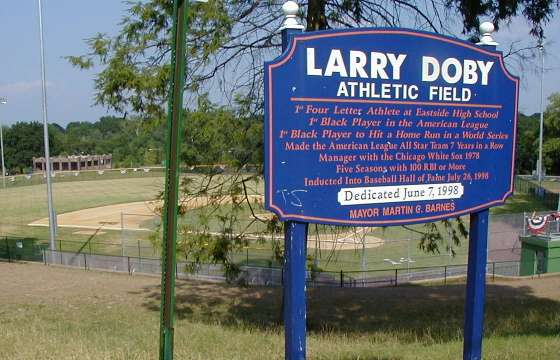 Entrance sign overlooking Larry Doby Field, Jul-2002.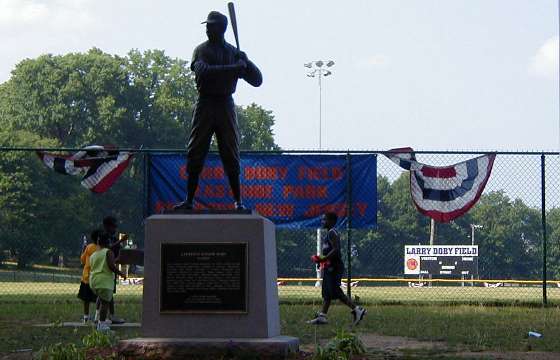 A statue of Doby was dedicated here 1-Jun-2002.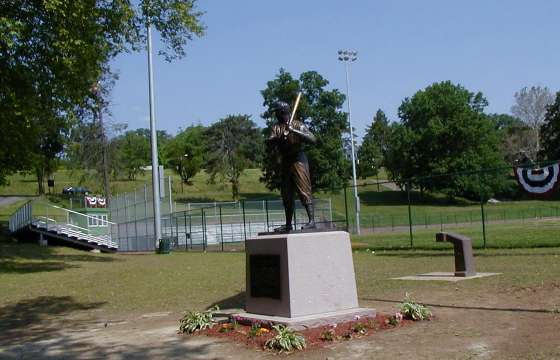 A better look at the seating configuration.
---
Quick Facts:
Location: Eastside Park, Broadway and McLean Boulevard, Paterson, N.J.
Opened: 1998
---
Larry Doby got his start on the sandlots of Camden, S.C., but moved to Paterson, N.J., before his teen years. He graduated from Paterson's Eastside High School in 1942, having earned letters in four varsity sports (baseball, basketball, football, and track). From there, he went on to a brief career in the Negro Leagues before being picked up by the Cleveland Indians. In the summer of 1947, he became the first black player in the American League, crossing the Major League Baseball color line of 60 years' standing that had first been breached by Jackie Robinson of the Brooklyn Dodgers that spring.

Doby went on to have an outstanding career with the Indians, and thirty years later he became one of baseball's early black managers, with the Chicago White Sox. He was elected to the Baseball Hall of Fame in 1998.

While Doby was born in the South, he claims roots in Paterson. The city recognized this in 1998 by renovating a dilapidated field in Eastside Park, along the Passaic River, and dedicating it to Doby. A statue of him was added in 2002.
---
Return to the Other Baseball Sites page
Return to the Stadiums page
Return to Charlie's home page
E-mail: charlies.ballparks@verizon.net
---
Site and images Copyright © 2002 Charles O'Reilly. All rights reserved.
This page updated 22-Jul-2002