Baseball Becomes a Shore Thing
---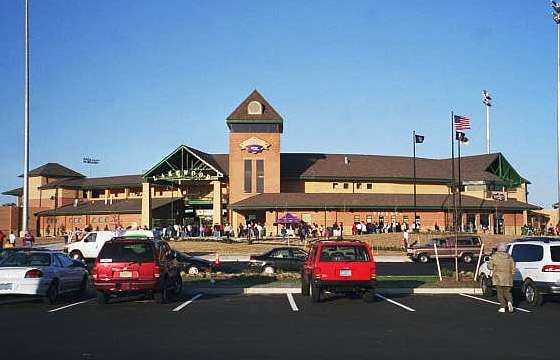 Entrance to GPU Energy Park, Apr-2001.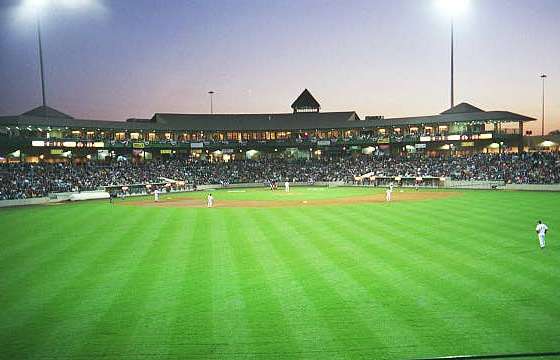 The view from center field during the game.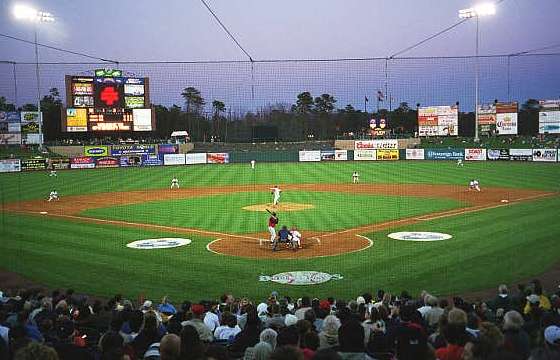 Outfield signs are somewhat unobtrusive here.
---
Quick Facts:
Location: Cedar Bridge Avenue (SR 528) at New Hampshire Avenue, Lakewood, N.J.
Opened: 2001 as GPU Energy Park
Additional names: FirstEnergy Park (2002)
Home team: Lakewood Blue Claws, South Atlantic League (2001-present)
Capacity: 6,588

Chronological Tour: Stop 195

Rating:



3 baseballs
---
Apparently, there are only so many blueprints for new ballparks. It took me about nine innings, but I finally realized why I was experiencing déjà vu at this yard. With the exception of exterior trim around the entranceways, the park appears to be a dead ringer for Smokies Park in Sevierville, Tenn., which I visited in the summer of 2000. Even the seating capacity is similar, although this stadium seats 588 more than the one in Tennessee.

So why a larger capacity park for a lower level of ball? Despite the fact that this is low Class A ball vs. the Double-A Southern League, the designers expected large crowds due to the location of the park, on the northern edge of Ocean County. Thanks to the Garden State Parkway, the bedroom for New York now stretches this far down the Shore. There is also some baseball tradition in the area, and fans have been flocking to the park since the opener. An August 2002 game I attended drew a South Atlantic League record 13,003 fans.

Sight lines are fine, and prices for tickets, concessions and souvenirs are all average for the New York area. However, the park suffers from poor access and egress. After a stop at the souvenir stand, it took me 15 minutes to get out of the parking lot. There are only two exits, and the access roads do not have enough lanes to accommodate the cars streaming out of a packed house.
---
Game #
Date
League
Level
Result
454
Fri 13-Apr-2001
South Atlantic
A
LAKEWOOD 1, Hickory 0, 11 inn
457
Mon 7-May-2001
South Atlantic
A
Delmarva 5, LAKEWOOD 2
519
Mon 24-Jun-2002
South Atlantic
A
Greensboro 5, LAKEWOOD 3
555
Mon 26-Aug-2002
South Atlantic
A
LAKEWOOD 3, Hickory 0
584
Tue 6-May-2003
South Atlantic
A
LAKEWOOD 3, Charleston WV 2
685
Tue 3-Aug-2004
South Atlantic
A
Augusta 4, LAKEWOOD 1
734
Thu 7-Apr-2005
South Atlantic
A
Lake County 10, LAKEWOOD 2
809
Wed 26-Apr-2006
South Atlantic
A
LAKEWOOD 7, Hagerstown 7, 17 inn, curfew
(BlueClaws won completion, 8-7, 22 inn)
812
Mon 26-Jun-2006
South Atlantic
A
LAKEWOOD 4, Lake County 1
838
Tue 15-Aug-2006
South Atlantic
A
LAKEWOOD 7, Hagerstown 5
850
Wed 6-Sep-2006
South Atlantic
A
LAKEWOOD 2, Lexington 1
854
Thu 14-Sep-2006
South Atlantic
A
Augusta 11, LAKEWOOD 1
855
Fri 15-Sep-2006
South Atlantic
A
LAKEWOOD 5, Augusta 0
(BlueClaws win league championship)
859
Thu 5-Apr-2007
South Atlantic
A
Greensboro 11, LAKEWOOD 7
895
Thu 30-Aug-2007
South Atlantic
A
LAKEWOOD 1, Lake County 0
919
Thu 3-Apr-2008
South Atlantic
A
Lake County 4, LAKEWOOD 0
951
Mon 18-Aug-2008
South Atlantic
A
LAKEWOOD 9, Charleston SC 1
986
Fri 10-Apr-2009
South Atlantic
A
Delmarva 3, LAKEWOOD 1
1004
Thu 6-Aug-2009
South Atlantic
A
LAKEWOOD 7, Lake County 5
1040
Tue 15-Sep-2009
South Atlantic
A
LAKEWOOD 3, Greenville 0
1052
Thu 22-Apr-2010
South Atlantic
A
Hagerstown 11, LAKEWOOD 7
1100
Sat 11-Sep-2010
South Atlantic
A
LAKEWOOD 6, Hickory 0
1103
Fri 17-Sep-2010
South Atlantic
A
LAKEWOOD 2, Greenville 1
1117
Wed 25-May-2011
South Atlantic
A
Greensboro 4, LAKEWOOD 1
1130
Sun 24-Jul-2011
South Atlantic
A
LAKEWOOD 5, Augusta 1
1192
Wed 11-Jul-2012
South Atlantic
A
LAKEWOOD 9, Hickory 3
1221
Tue 21-Aug-2012
South Atlantic
A
Delmarva 4, LAKEWOOD 2
Return to the Stadiums page
Return to Charlie's home page
E-mail: charlies.ballparks@verizon.net
---
Site and images Copyright © 2001 Charles O'Reilly. All rights reserved.
This page updated 22-Aug-2012