Where the Durham Bulls Lived
---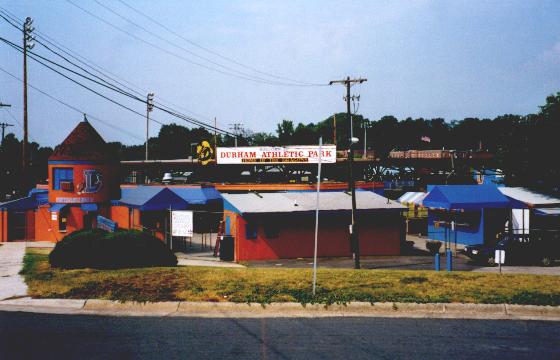 Walking up to Durham Athletic Park, Aug-1999.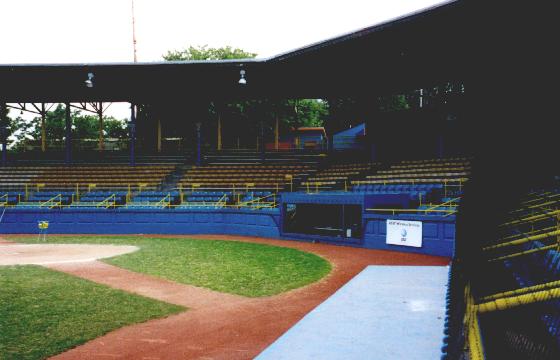 A view of the DAP's seating area.
---
Quick Facts:
Location: Washington and Corporation streets, Durham, N.C.
Opened: 1939
Closed (for pro baseball): 1994
Home team: Durham Bulls, Piedmont League (1939-43), Carolina League (1945-67, 1980-94); Raleigh-Durham Mets (1968), Phillies (1969), Triangles (1970-71), Carolina League
Capacity: 5,000

Chronological Tour: Stop 18

Rating:




4 baseballs
---
You can still go to old Durham Athletic Park, at Washington and Corporation streets in this tobacco and college town. You can even pay admission and see a game there, even though the Bulls moved to their new facility, Durham Bulls Athletic Park, back in 1995. That's because the park continues to host games at several levels.

The Durham Bulls played there from 1939 to 1994, with the stadium growing a few times over the years to produce a real homey effect. By the time I got to see a game there, in 1991, it was starting to look a little run-down, but the always enthusiastic Durham crowds made up for it. This is what the producers of the movie "Bull Durham" saw when they decided to center their film around the park.

Fortunately, the park is still serviceable, and it's possible to go take a look at this legendary facility. The only thing missing is the snorting bull – it got moved to the new park.

Currently, the Durham Americans of the Coastal Plain League, a summer collegiate baseball league, call the DAP their home field. Durham Arts High School, a magnet school in the old Durham High School building, also utilizes the park for its home games. Durham Arts plays in the Tar-Roanoke Conference. In addition, a team in the Women's Pro Fastpitch softball league played here for several seasons. And starting with the 2010 season, the Bulls will be returning to DAP for one game a season.
---
Return to the Stadiums page
Return to Charlie's home page
E-mail: charlies.ballparks@verizon.net
---
Site and images Copyright © 1999 Charles O'Reilly. All rights reserved.
This page updated 1-Feb-2010