Outdoor Baseball Returns to Minneapolis
---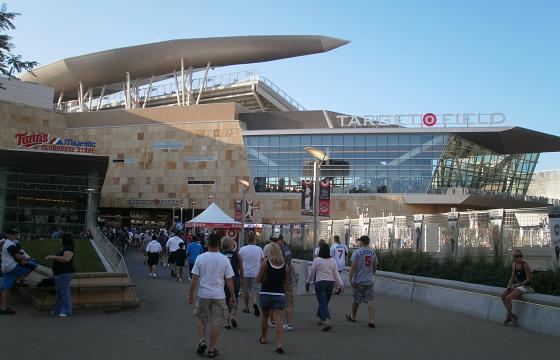 Home plate entrance to Target Field, Aug-2010.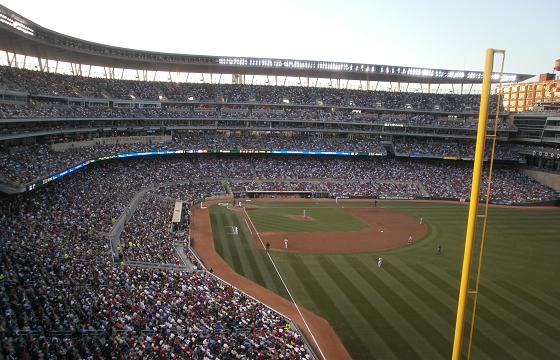 The seating bowl, as seen from down the right-field line.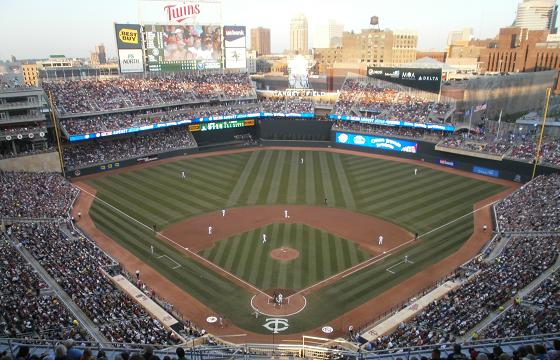 A view from the upper deck behind home plate, with downtown Minneapolis as a backdrop.
---
Quick Facts:
Location: 7 St at 3 Ave North, Minneapolis, Minn. (map it using Google Maps)
Opened: 2010
Home team: Minnesota Twins, American League (2010-present)
Capacity: 40,000

Chronological Tour: Stop 353

Rating:





5 baseballs
---
There had not been a professional baseball game played outdoors in Minneapolis since 1955, the last season of the Millers at Nicollet Park, located only a few blocks from the site that eventually became Target Field. The Millers moved to Bloomington in 1956, setting up shop at the park that eventually served as the home of the Twins from 1961, when they moved from Washington, through 1981.

Baseball in the Twin Cities area relocated to Minneapolis, the larger of the two (St. Paul, the state capital, has a slightly smaller population), for the 1982 season, taking up residence in the Hubert H. Humphrey Metrodome for 28 years. While the Twins won two World Series championships at the Dome partly because of the home-field advantage conferred upon them by the building's acoustics, the park was a nightmare for fielders. For one, the artificial turf played awfully hard; for another, the white roof made fly balls difficult to see. As a result, even though indoor baseball was more palatable in April and October, there was quite the clamor to return outdoors.

The result was Target Field, opened in 2010 and named for a retail chain based in Minneapolis. I found the place to be outstanding, a surprisingly good new ballpark. The architecture outside is a bit unusual, but inside, everything seems to work fairly well. The concourses do get a bit crowded when the place is full, as it was for most of the park's inaugural season, but even egress from the park at game's end flowed very smoothly, unlike at a few modern baseball cathedrals. Traffic moved very well down the ramp from the upper deck to street level.

One thing I found notable was that the Mall of America, which was built in Bloomington partly on the site of old Metropolitan Stadium, is a major sponsor of the Twins now. They have also slapped their name on the field at the Metrodome, where the NFL Vikings continue to play.

All in all, my first two visits to Target Field were quite satisfying. I recommend a visit here, though not necessarily early in the season.
---
Return to the Stadiums page
Return to Charlie's home page
E-mail: charliesballparks@verizon.net
---
Site and images Copyright © 2010 Charles O'Reilly. All rights reserved.
This page updated 19-Aug-2011