Chronological Tour: Stop 345

Parkview Field
---
| | | |
| --- | --- | --- |
| Home-plate entrance to Parkview Field, Jul-2009. | The seating bowl, as seen from the first-base line picnic area. The park is relatively empty because itís raining. | The view from behind the plate as the first pitch is being thrown. |
---
Quick Facts:
Location: Ewing and Brackenridge streets, Fort Wayne, Ind.
Opened: 2009
Home team: Fort Wayne TinCaps, Midwest League (2009-present)
Capacity: 6,800 (approx.)
Rating:





5 baseballs
---
There was a little bit of controversy surrounding the opening of Parkview Field, which is sponsored by Parkview Health, a network of hospitals and clinics in northern Indiana.

The trouble was that Fort Wayne Memorial Stadium wasnít that old. It was still in pretty good shape, although it didnít have all the amenities that a modern ballpark has, like updated luxury boxes.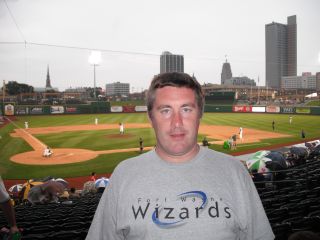 The webmaster, at his 1000th professional game.

The owners of the ball club pitched a new park to the city as a boon to downtown development. So what happened? The recession of 2008-09 meant that nothing else had gone up in downtown Fort Wayne besides the ballpark by the time I got there.

That said, this is a huge improvement over the old park. The newly rechristened TinCaps (the name comes from John Chapman, aka Johnny Appleseed, and his tenure in Fort Wayne in the first half of the 19th century) have built a stadium about which I had to nitpick in order to find something wrong. My biggest complaint is that the speaker towers in right field obscure parts of the scoreboard. There was also no lineup board, but the owners have decided on a marquee-style model that should be in place for 2010.

Other than that, there is practically nothing wrong with this park, which offers an abundance of seating and entertainment options, from two berm seating areas to club seating behind the plate to, yes, those upper-deck suites. And donít forget the Treetops Seating off the parking garage in right field.

By happenstance, I saw my 1000th professional game at Parkview Field, and I couldnít think of too many better places for that event to occur.
---
Return to the Stadiums page
Return to Charlieís home page
E-mail: charliesballparks@verizon.net
---
Site and images Copyright © 2009 Charles OíReilly. All rights reserved.
This page updated 19-Aug-2017