Veterans Memorial Stadium II
---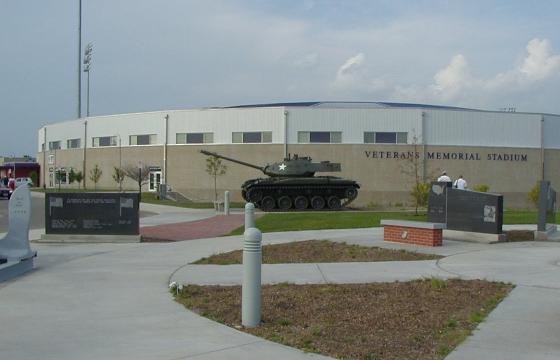 The front of Veterans Memorial Stadium, including the war memorial.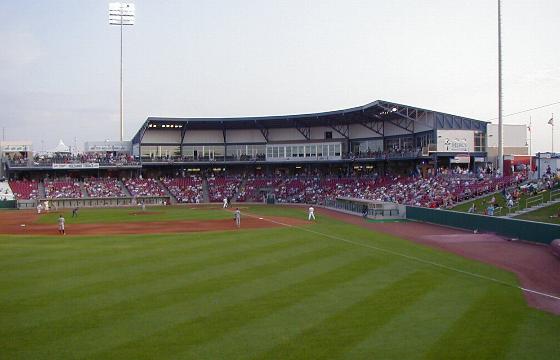 The seating bowl and roof, from the left-center field concourse.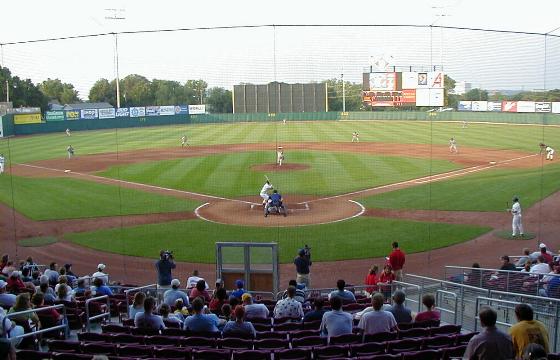 Here, the netting stretches all the way to field level without a curb, so field level seats are actually at field level.
---
Quick Facts:
Location: 8th Avenue at 15th Street SW, Cedar Rapids, Iowa
Opened: 2002
Home team: Cedar Rapids Kernels, Midwest League (2002-present)
Capacity: 6,000

Chronological Tour: Stop 249

Rating:



3 baseballs
---
Veterans Memorial Stadium opened in 2002, replacing a previous incarnation from 1949, about 300 feet to the southeast, which was torn down after the 2001 season. Just outside the park at home plate is the actual memorial to veterans of all wars from the Civil War to Gulf War II.

The biggest shortcoming I found with Cedar Vet II was its access and egress. There's only one entrance to the park, off the parking lot in left field – and there's only the one exit, too. Emergency exits are not opened to let fans get out into the parking lot after the game.

The park looks nice enough, but it seems the current management has bent over backward to make things uncomfortable for the fans. This includes the overuse of between-innings video and between-batters music. The park itself is sunken from the concourse / parking lot level, although the lay of the land makes field level about even with the surrounding outfield ground.

On the plus side, the park features a marquee board for the starting lineups, which is uncommon; I've also seen it at Centennial Field in Burlington, Vt., and Principal Park in Des Moines.
---
Return to the Stadiums page
Return to Charlie's home page
E-mail: charlies.ballparks@verizon.net
---
Site and images Copyright © 2003 Charles O'Reilly. All rights reserved.
This page updated 14-Sep-2011