Getting Spacey on the Space Coast
---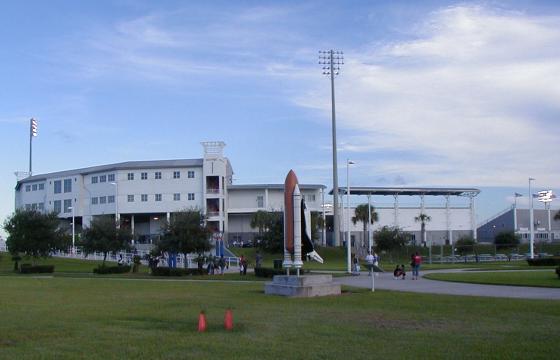 Approaching Space Coast Stadium, Aug-2003.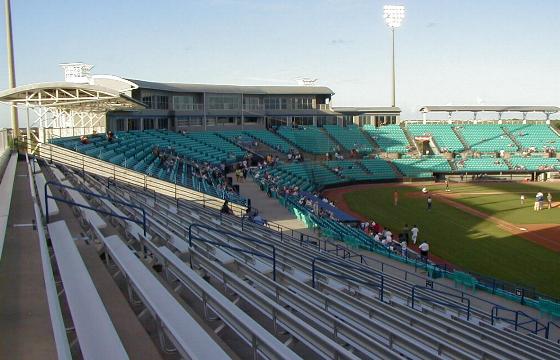 The seating areas, as seen from the first-base line.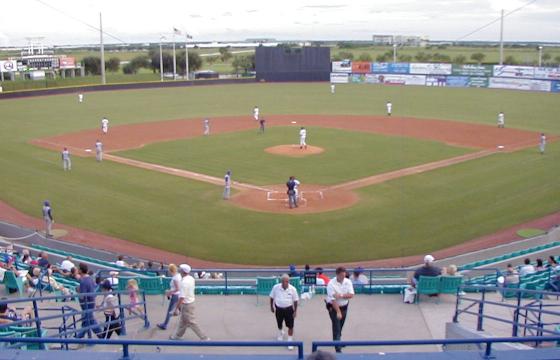 What you see from directly behind home plate.
---
Quick Facts:

Chronological Tour: Stop 261

Rating:

1 baseball
---
Gertrude Stein would feel comfortable in Viera: There's no there there.

Brevard County is trying to make a city of Viera, which right now consists of a few settlements, a relocated justice center (they're planning to move the county seat from Titusville), and this ballpark, which is essentially in the middle of a cow pasture.

To make matters worse, it's a dull, boring park which appears to have been done on the cheap, right down to a post-up scoreboard that doesn't even look very nice. Instead of smaller speakers all around the park, there's one big speaker column in the outfield (like at old Shea Stadium), which wreaks havoc on announcers and anthem singers. The worst part is that they get $3 to park in the middle of the cow pasture – not even a paved lot.
---
Return to the Stadiums page
Return to Charlie's home page
E-mail: charlies.ballparks@verizon.net
---
Site and images Copyright © 2003 Charles O'Reilly. All rights reserved.
This page updated 14-Mar-2012